A few key figures about Le Havre
Let's go to Le Havre !
Benefiting from an ideal location within the unified Normandy region and situated just two hours away from Paris, "LH" – as the locals like to call it – attracts millions of tourists each year, eager to discover the unique history, singular architecture, and asserted modernity of the city, and enjoy its renowned dynamism.
 
KEY FIGURES
0 15th largest city in France
0 ha of open areas and parks
0 1st city in Normandy (in terms of surface area / population)
0 A surface area of 47 km²
0 shops and retail services
0 1 to 2 daily ferry crossings to England
0 km entre Le Havre et Caen
Destination Le Havre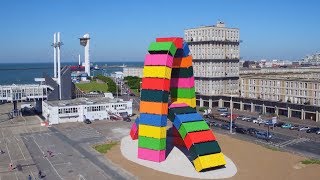 Le Havre Seine Métropole
Le Havre Seine Métropole is the largest international trade hub in France. It is the gateway to one of the most travelled seas in the world – the English Channel – and to the Seine Valley corridor connecting Paris and the Ile-de-France region to the rest of the world. This metropolis of the future is committed to improving the global appeal of the area and to reinforcing its influence by capitalising on three major assets : higher education, tourism, and economic development.
KEY FIGURES
0 A surface area of 496 km²
Le Havre Seine Métropole - Préparons l'avenir au quotidien