Le Havre, a seaside resort
The beach, the basins, the port : in Le Havre, the city and the sea come together !
Le Havre seafront is an exceptional living environment equipped with numerous facilities. 
In the summer, cafés and restaurants take over the 3 km-long beach promenade that runs along the beach. It is the perfect venue for a whole range of leisure activities and cultural and sports events. 
The bay is also renowned for the practice of sailing, whether you are a beginner or an expert.
 
Le Havre, bien plus qu'une station balnéaire...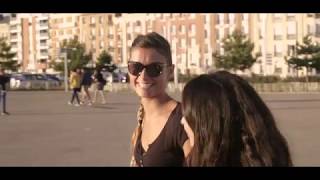 Le Havre, a young and vibrant city  
Un Été Au Havre, Ouest Park Festival, MoZ'aïque, Le Goût des Autres, the Transat Jacques Vabre yachting race, the FISE Xperience, and the rich and diverse programme provided by atypical venues such as Le Tetris, Magic Mirrors, Le Carré des Docks… are only a sample of the many events, music, cinema, and street art festivals which attract visitors from all over France – and abroad – to Le Havre.
Le Havre, a sports city
With numerous premium facilities (gymnasiums, swimming pools, skate park, equestrian centres, golf course, ...), a seaside promenade and sports facilities along the beach, 750 hectares of open spaces and 135 kilometres of cycle paths, Le Havre itself is a great playground for a wide range of sports.
Le Havre is also the hometown of over 40 elite athletes from 17 different sports disciplines and of several clubs playing at the national level.
Le Havre, a city of architects
On 15th July 2005, Le Havre and its modern city centre – rebuilt by Auguste Perret after World War II – was classified on the prestigious World Heritage List.
This architectural momentum carried on with the construction of Le Volcan (a cultural centre and National Theatre) by Oscar Niemeyer, the Bains des Docks aquatic centre designed by Jean Nouvel and, more recently, the Cité A-Docks (a student residence built of containers) and the ENSM French Maritime Academy building.
In 2020, a new architectural landmark designed by Groupe 6 and Pierre Champenois came out of the ground to bring together the Cité Digitale and the EM Normandie Business School.
 
Le Havre, a port city
Le Havre is the leading French port for foreign trade, container traffic, energy supply, and import/export.
But with cruise ships, ferries, sailboats, and fishing boats also calling to port, Le Havre is also a port for cruises, yachting, regattas, and fishing.
Le Havre, a competitive industrial area
The Industrial Port Zone covers more than 100 km² (1.5 x the surface of Paris). It represents 31,000 jobs and 1,200 companies.
Therefore, Le Havre is a leading industrial hub with a wide range of activities : aircraft, automotive, and mechanics industries, energy, chemicals, etc.
Several major global companies have settled in Le Havre :
•    Renault
•    Safran Nacelles
•    Sidel (Tetra Laval Group)
•    Dresser-Rand (Siemens)
•    Chevron Oronite
•    EDF
•    …
With the two largest French refineries (Total and Exxon) on its territory, the Le Havre area is the second largest petrochemical hub in France.
The development of a dynamic intercompany circular economy strengthens the competitiveness of the area.