Tourisme
LE HAVRE ETRETAT NORMANDIE TOURIST INFORMATION CENTRE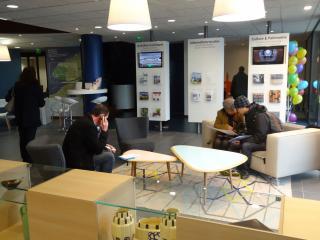 Le Havre Etretat Normandie Tourisme est composé de 3 sites d'information : au siège situé sur le front de mer au Havre, à la Maison du Patrimoine et à Etretat.
Founded in 1891, the Tourist Information Centre was one of the very first opened in France. The diversity of services offered to visitors by the Tourist Information Centre, its expertise, and its facilities make it a "Category 1" Tourist Information Centre. Rewarded with the "Qualité Tourisme" label, the Tourist Information Centre is also a member of the Atout France network and of the Offices de Tourisme et Territoires de Normandie (OTN) network, which brings together more than 150 Tourist Information Centres (OTSIs). These various memberships imply it offers a whole range of premium services for all visitors.
Multilingual travel advisers are there to provide visitors with the best information possible. Local, regional, and national documentation is available to visitors in the reception hall or obtainable from the travel advisers on request.
Le Havre
The Tourist Information Centre is situated on the seafront, between the beach and the marina.